I have received information and materials from ©Johnson & Johnson Consumer Inc. 2017.The opinions stated are my own. This is a sponsored post. #ForBetterTomorrows #BetterTomorrows #FallBack #CollectiveBias
Sleep ya'll! It's no joke how much I need my coffee for a better tomorrows, especially after Daylight Savings Time hits. And while the days of early parenthood and sleep deprivation are over? It's only made me realize how important a good night of sleep is. So while I won't take the normal aches and pains of motherhood laying down. I do have some ideas for helping you curl up to some sweet dreams just the same.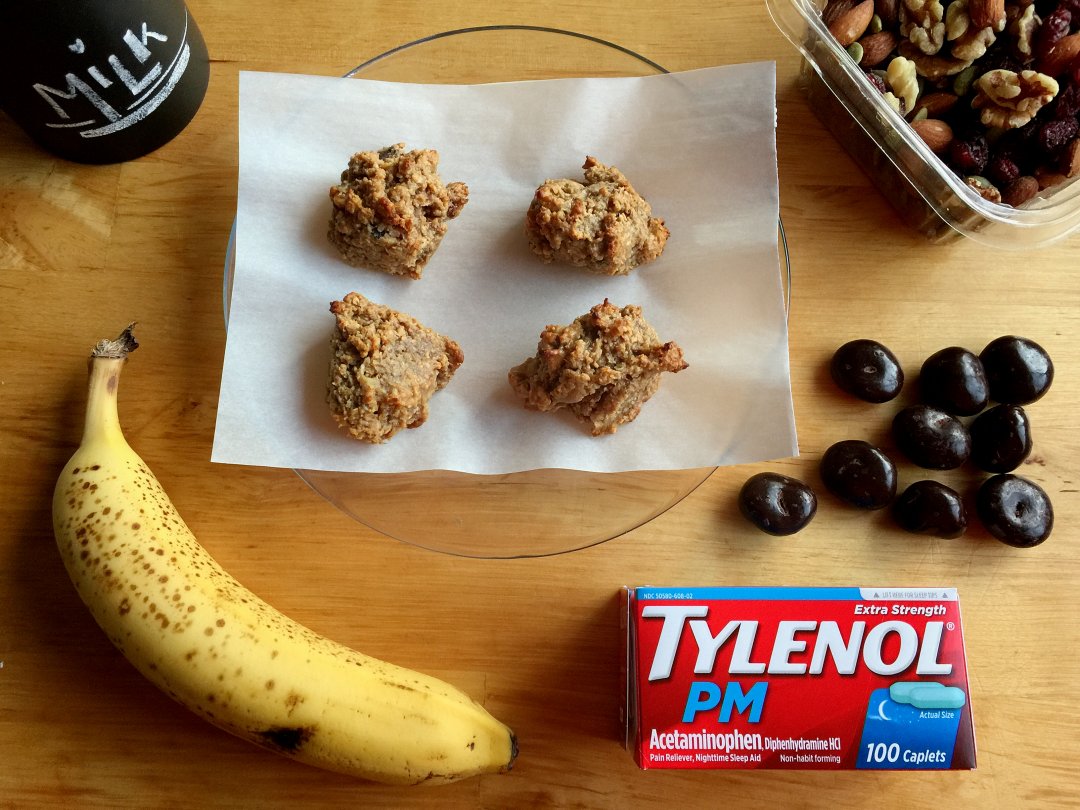 Which of course, involves my kitchen. It also involves this picture above, and if you click or hover over… it will take you right to a great tip to help you slumber! It also showcases a few great staples I often reach for when I'm having a hard time nodding off too. Such as:
1. Bananas
2. Dark chocolate covered cherries
3. Walnuts
4. Milk
5. Bedtime cookies
But sometimes, the day has simply been longer than I would care to admit. Or when those clocks fall back, the day is just suddenly too short! Deadlines still loom and stress brings on headaches. Those storage boxes don't shift themselves so you can fix the dryer. And as a single parent, there isn't someone else to tag in when your back aches from being hunched over a bathtub too long.
So lets get real…that's when I reach for TYLENOL® PM. Bedtime cookies can quiet the stomach and smooth emotions of a tough day. But it's TYLENOL® PM that really helps support my body against sleeplessness. Especially after traveling, during time changes, and when kids have just recovered from getting sick. Or on those random nights my body aches too loud for sleep to find me.
To which, I find myself shuffling to the kitchen and preheating the oven to 350°. Before long a bowl of 1 cup quick oats, peanut butter jar, honey bear, and 1 ripe banana appear. The base of my cookie; each element I use contributes to comforting my belly, nerves, muscles and mind. The quick oats contain melatonin, while the peanut butter provides the protein. Honey provides a sweetness while also supplying tryptophan (yes, the same element in your turkey). And bananas provide a potassium and magnesium element for help relaxing your muscles.
Next, I'll pull out a few add-ins from what I have on hand. This cookie will have walnuts (another good source of tryptophan) I picked out from my favorite Omega 3 Blend of dried fruit, nuts and seeds at Walgreens. It was this same trip I saved $1.50 on TYLENOL® PM using my Walgreens card. Plus they stocked these chocolate covered cherries that I chopped up too. The dark chocolate brings an element of serotonin to my cookie as well.
But here's where it gets fun. Once all these elements are in the bowl, stir your sleeplessness into submission. Mashed together, the mix will be crumbly. Then you'll fold in 1/2 cup peanut butter and continue to stir.
Finally, the best element will bring this bedtime favorite together for proper noshing. After measuring out 1/4 cup of honey, microwave it for 30-60 seconds. Then pour the warmed honey over the cookie mixture, stirring immediately.
This will bring a no-bake element to the mix. As it will soften the peanut butter and melt the dark chocolate. Because if ya'll are anything like me? Some nights it's all about me Facebookin' at midnight with spoonfuls of cookie dough, a mug of milk, and a TYLENOL® PM.
Of course if they do make it onto some parchment (helps keep them from sticking) and into the preheated oven; allow cookies to bake for 12-15 minutes. Great warm, you'll find as they cool they're just the right amount of hearty you're late night kitchen quest has searched for. Add in using TYLENOL® PM as directed to help with aches and pains as well? And you're certain to be ready to greet that alarm clock with a smile!
So there you have it. My bedtime cookie recipe and a few tips for a more restful night. All to make the most of not just every daylight hour, but every nighttime minute as well!
Bedtime Cookies And Tips For A More Restful Night
Author:
A quick oatmeal cookie dough to help late night bakers!
Ingredients
1 cup quick oats
1/2 cup peanut butter
1/4 cup honey, warmed
1/4 cup walnuts, chopped
1/4 cup dark chocolate covered cherries, chopped
1 ripe banana
Instructions
Preheat oven to 350°.
In a large bowl, add the quick oats.
Next squeeze the ripe banana in its skin. Peel and add to bowl with quick oats.
Add 1/4 cup chopped walnuts.
Add 1/4 cup chopped dark chocolate covered cherries
Stir mixture until combined and crumbly.
Add 1/2 cup peanut butter and stir.
Heat honey for 30-60 seconds to warm, add to mixture and stir.
Eat as no-bake cookie dough OR bake for 12-15 minutes.
So make sure to tag me on Instagram or Twitter what you think of my late night recipe. And you also may want to subscribe on YouTube for great videos from TYLENOL®. Now what say you? When you stop for those essentials at Walgreens next time, what great things will you be picking up?
TYLENOL® PM contains a pain reliever and nighttime sleep aid. ©Johnson & Johnson Consumer Inc. 2017 The third party trademarks used herein are trademarks of their respective owners.