This #SweetnessToShare shop has been compensated by #CollectiveBias, Inc. and its advertiser, Mars Wrigley Confectionery US, LLC. As always, all my gifting a latte opinions are my own. And make sure to hover over and check out this first image below to shop directly from this post!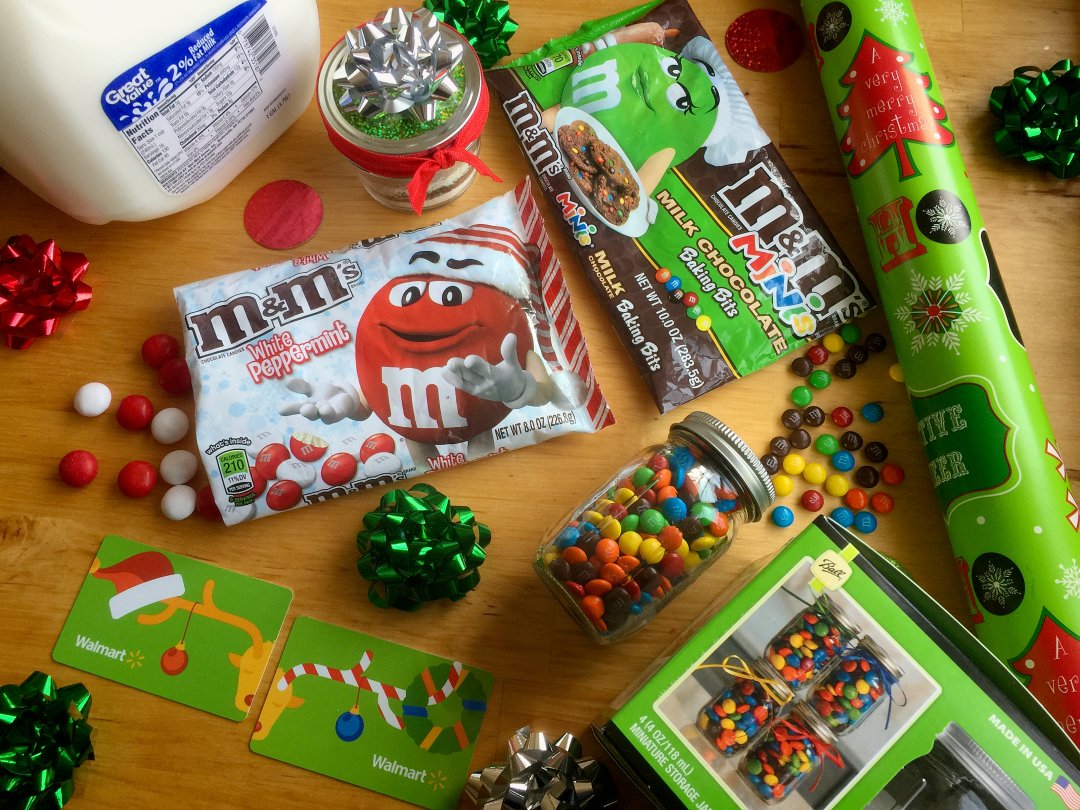 The holiday season is in full swing! But with all the joys that come from giving a latte this year? I'm here to show how you can make sure that means you're giving back too! Specifically to help to feed a childhood, all with the gift of donation to The Great American Milk Drive!


Partnering with Feeding America®, The Great American Milk Driive is helping to ensure that children have the potential to learn, play, and grow. And for every purchase of M&M'S® Brand Chocolate Candies (9.4 oz or larger) at Walmart between 11/01/2017 and 12/25/2017, Mars Chocolate Inc.® will donate $5.00 to Feeding America® on behalf of its national network of food banks to secure and deliver one (1) half gallon of milk or more based on local markets. Maximum donation of $75,000.
Plus what's better to pair with all those great MARS® products and Great Value® milk? Why Ball® mini jars of course! With all these great goodies in tow from my recent trip to Walmart; I was ready to gift the sweetest gifts to our friends, family, and neighbors.
Which of course…was gifting a tasty latte drink mix in a 4oz Ball® jar. The best part of gifting any mason jar gift for me? Knowing I can keep the frills to a minimum and concentrate on what great goodness is in the jar rather than hanging off of it. Complete with a $5 gift card to Walmart to pick up their own Great Value® milk and M&M'S®…this was totally the gift that keeps giving.
Giving Back And Gifting A Latte This Holiday Season
Author:
Prep time:
Total time:
Get ready to Gift-A-Latte with this easy mason jar gift that everyone will love to sip up!
Ingredients
2 cups Great Value® Dry Milk Powder
1 cup Powdered Creamer
1-1/2 cup Instant Coffee Granules
1/2 cup Instant Chocolate Pudding Mix
1/8 cup White Peppermint M&M'S®
Optional: 1/2 cup sugar
Instructions
Combine all dry ingredients and stir.
Pour into 4oz resusable Ball® jar.
Close lid tightly, wrapping ribbon around jar and topping with mini bow.
Attach gift card to Walmart for Great Value® Milk and seasonal M&M'S®.
Notes
This recipe is great when using flavored creamer. I've found in doing so, I didn't need to add the optional sugar. Instructions include dissolving the 4oz of latte mix into 1/4 cup hot milk (or water). Crush candies to sprinkle on top!
As with any mason jar gift, this recipe is straight forward and easy to complete. Plus its just so much fun to gather around the kitchen table with my family to make! Easiest option is to combine all the dry ingredients in a large mixing bowl. That includes 2 cups dry milk powder, 1-1/2 cups instant coffee granules, 1 cup powdered creamer, and 1/2 cup instant chocolate pudding mix. When using a flavored creamer, I don't find I need to add additional sugar. Otherwise, I toss in 1/4-1/2 cup sugar for a latte with a sweeter sip.
Using a 4oz reusable Ball® jar, pour in your dry latte mixture to stop just before the glass ring threads. Then top with your seasonal M&M'S® White Peppermint seasonal candy and close lid tightly. I placed a small circular piece of parchment to keep the dry mix separate from the candy. This way the person who enjoys your latte can keep the M&M'S® whole, or crush them for an added peppermint flavor.
I adorned this latte gift with a circular piece of confetti and a miniature bow. While tying a red ribbon around the silver jar lid. Have even more fun with this using more Ball® jar accessories such as removable labels and different colored lids! No matter what you choose. Any gift is ready to give when you use a mason jar!

Last but not least, treat them to the sweetest gift and add a little extra with a $5 gift card to Walmart. With great rollback deals in the Dairy and Seasonal Candy aisle, this will go a long way to picking up the Great Value® milk and M&M'S® chocolate candy products needed. Both for the recipe and for enabling the $5 donation to Feeding America® during The Great American Milk Drive!