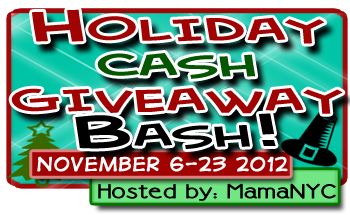 Roasted Beanz has teamed up with a great group of bloggers to bring you a AWESOME cash prize giveaway! So welcome to the Holiday CASH Giveaway BASH hosted by MamaNYC! This event will run from November 6-23rd and open to residents WORLDWIDE. Keep on reading below to find out how to enter this giveaway for your chane to WIN!
One lucky winner is going to receive. . .
$300.00 PayPal CASH!
Please enter using the Rafflecopter widget below in order to enter this giveaway. Open to residents WORLDWIDE; 18+. Winner must have a PayPal account in order to claim this cash prize.
All entries are optional, but your odds greatly increase as you complete each entry. This giveaway will end on November 23, 2012 @ 11:59pm EST. Winner will have 48 hours to confirm winnings or the prize will be forfeited and a new winner will be selected. Winner will be notified by the owner of MamaNYC. Please note that you only need to enter this giveaway ONCE since we are all using the SAME Rafflecopter widget code. Look for the Holiday CASH Giveaway BASH button if you are unsure.
Good Luck & Have Fun!
---
---
Roasted Disclosure: This giveaway is a self-sponsored group collaborative effort in order to provide a cash prize. Each blog/participant has provided funds in order to present this giveaway. This event is in no way sponsored or affiliated with any company or other individual(s) other than those included within the Rafflecopter widget.