Jessica of Sugar in My Grits
Sharon of Hobbies on a Budget
Rachel of Roasted Beanz
Kamila of MindBodyWell
First, we'd like to
Welcome
all of you who have stopped in to join us & participate in the new blog hop-
G+ Boogie
. After linking up your Google+ profile, be sure to add some of the others (especially the host/co-hosts). Also, help us spread the word by sharing our current button with your pals: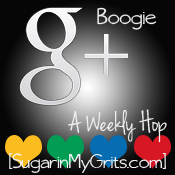 Are you yet to join Google+? If you're one of the many who has yet to join this amazing network, what's holding you back? Many have told me that they're simply confused by the site. If this is the case, you can start by checking out this informative post to learn a little more about the basics of Google+. I also found this Cheat Sheet & this post for Beginners pretty helpful, as well. Ooh yeah- & be sure to watch this awesomely cool video below.
Ready to HOP?
Then link up and check out some incredible G+ profiles and the great blogs that go with them! Thanks for stopping and hopping!